BÜROHALLO Website

BÜROHALLO
Web Design
2017
I created this website during my time with BÜROHALLO.

BÜROHALLO is an integrated design studio dedicated to reviving the city of Dessau. The studio offers a range of services, mainly transdisciplinary and driven by social objectives. Young and in constant mutation, BÜROHALLO has already realised a number of projects that deal with complex issues and take shape in various forms. The field chosen by BÜROHALLO leads them to find intelligent, efficient and rapid solutions to put into practice.

The purpose of the website is to propose and organize all these projects in an easily understandable way, while also hinting at the studio's pragmatic and functional design. With their collaboration, we decided to focus the attention on their realised works.


The site is built around two columns hosting the photographs of their finished projects. We left room for an intro page as well as a few statements to bring back the warm and friendly character of the BÜROHALLO's two members.
Sally Below Website
Sally Below
Web Design
2017
This is a website created during my time with BÜROHALLO for Sally Below.

Sally is a strategic consultant for urban contexts, curator, and communication expert. She is a founding member of the SBCA consultancy office in Berlin.

Self-taught, tireless and proactive, Sally Below has been working since 1999 on urban strategies to create new opportunities in the cities of tomorrow. BÜROHALLO and I decided to reorganize and highlight her projects – we instead focused on the dynamic character of Sally Below through portraits and left room for the text in order to let her express her ambitious studies and projects.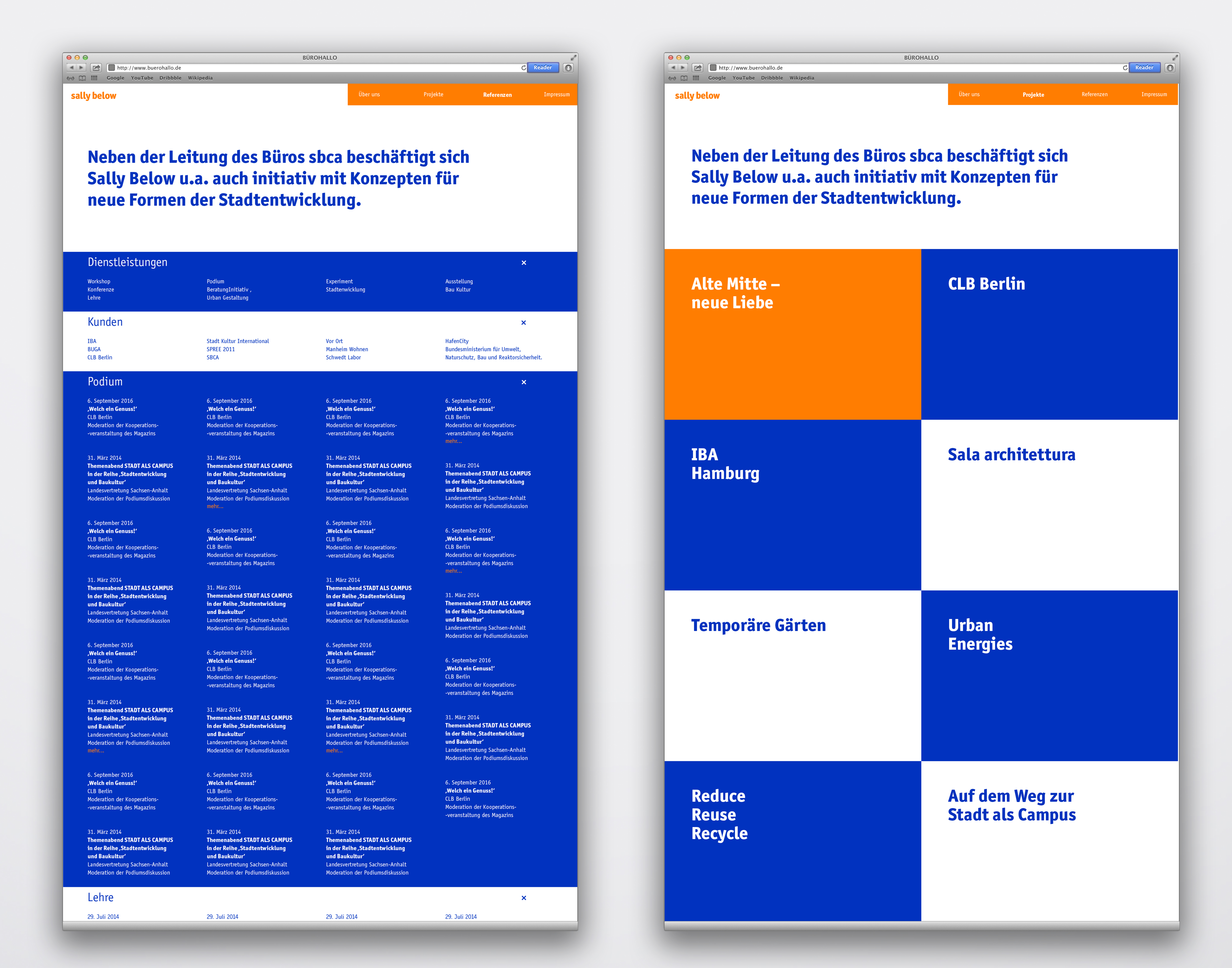 Tristan Bézard
T +49 176 24067420
E tristan.bezard.studio@gmail.com

© Tristan Bézard